Life can be stressful – school, extracurriculars, goals, jobs, and keeping it all balanced for your entire family!
Stress is a normal part of life, but it can be difficult when you see the adverse effects that it has on your child and their ability to function in their day-to-day life. You may find yourself asking what can be done to help your kids when they are stressed, here are some helpful tips!
Normalize stress for your children. Especially as children get older and their lives become fuller, it is normal to experience stress. It does not mean that there is something wrong with you, it usually means you are being challenged to learn and grow. I often find myself in session saying, "it is normal to have a hard time with a hard thing". Reassure your child that they are growing, and that they can do hard things!
Stress often has physiological signs in our bodies that can include: increased heart rate, sweating, stomach aches, headaches, struggling to think things through. We can teach our children to pay attention to these signs so that they are able to recognize what is happening and take the needed steps to find calm.
It is good to take breaks! When a task is becoming overwhelming for your child, encourage them to take a break. Sitting and staring at that math problem for another 10 minutes will not help your child once their mind has become overwhelmed. Encourage them to go outside, watch a funny video, play with their pet, or color. The break doesn't need to be a long one, but it can be a good mental reset, so your child is more capable of facing the challenge.
Actively practice coping skills in your home. If these are practiced regularly (especially when not stressed) your child will be more likely to recall and use them in a moment of stress.
Here are some of my favorites: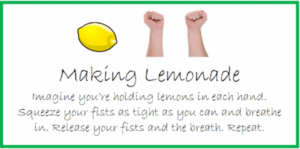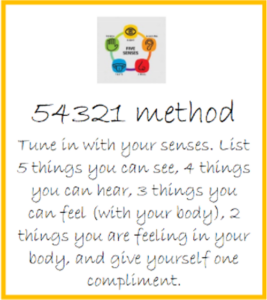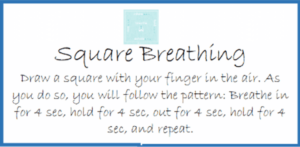 This link has a playlist of meditation videos your children can try:
Help your child develop a self-care routine. Self-care feels like quite the buzzword right now, but remember, self-care is more than a bubble bath or eating some yummy treats. Self-care is usually a response to the question: What do I need right now? Sometimes the answer is a bubble bath or a yummy treat! Sometimes the answer is going outside to hike or jog, clean your room, or call a family member. I recommend creating a self-care jar where you put in a variety of ideas and options so that kids are able to direct themselves in selecting a self-care option. Ideally, let's keep our self-care of screens to a minimum as much as possible (unless of course, it's a cuddled-up family movie night)! It is best to take part in a self-care activity about once a week to maintain good mental health.
In times of acute stress, it is important to always keep an eye out for when your child has become overwhelmed by the stress that they feel. Help is available for families. You can contact 988 which is the Suicide and Crisis Lifeline to be connected with someone 24/7.